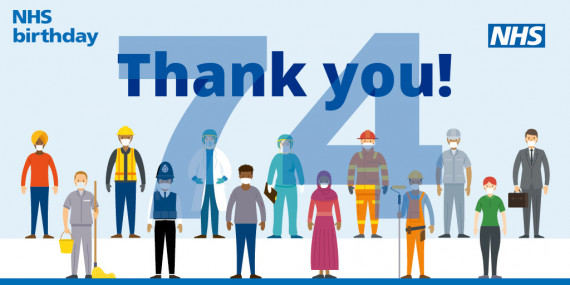 Dear Supporter 
Our NHS is 74 today. 
In the original leaflet distributed to every household for the launch of the NHS on 5th of July 1948, its founding principles were set out. It said, 
Everyone- rich or poor, man, woman or child can use it or any part of it. There are no charges, except for a few special items. There are no insurance qualifications. But this is not a charity. You are all paying for it, mainly as taxpayers, and it will relieve your money worries in times of illness.   
The NHS went on to become one of the best health care services in the world. But under this Conservative Government it has been driven to breaking point. 
OUR PLEDGE 
We say thank you, to the NHS workers from all corners of the world who make the NHS possible. And we make this pledge to all our supporters:
Keep Our NHS Public will do what we can to keep it safe from those who seek to extend privatisation, and undermine quality health care in the pursuit of profit. 
We're campaigning to support health workers, hold the Government to account over its response to the pandemic and much more.
We're in the fight of our lives to protect our NHS – and we need your help! JOIN NOW